Quality Centrum, spol. s r. o. | ISO 9001, ISO/TS 16949, ISO 14001, OHSAS 18001, HACCP

Dear Sir or Madam, dear business partners,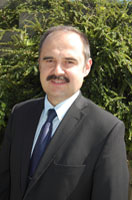 Ing. Jiří Smrž, Ph.D.
Director and Executive Head
let me briefly introduce company Quality Centrum, s. r.o., whose mission is to provide highly qualified services in the sphere of quality, ecology and safety.
Since its establishment in 1993, the company has specialized in implementation of quality, ecology and safety systems according to the requirements of international ISO standards. From the very beginning we have always insisted on workmanship, individual approach and respect of all requirements and wishes of our clients.
Thanks to responsible approach to each contract and by providing additional, especially training, services of high standard, we manage to keep our clients for many years. The fact that most of our clients continue cooperating with us even after implementation of the system is high motivation for all of us.
Our aim and mission still remain the same – provide the best and especially comprehensive services in order to be a partner to cooperate with, a partner you can turn to if management systems need to be implemented or your employees trained. We are able to facilitate communication with a certification organization or assist in securing grants from the EU funds.
Team of our employees and associates contribute their part to the goodwill of Quality Centrum, s. r.o., allow me then to thank them all in this way for their responsible and dedicated work.
Please consider this as an invitation to meet the team of Quality Centrum, s. r.o..
I do believe you will be highly satisfied with their work and you would become one of our contented clients.
We are looking forward to meeting you.

Ing. Jiří Smrž, Ph.D.
Director and Executive Head